Our products shown below are used as tank level sensors, level indicators, liquid level monitors, tank level gauges. All these are non-contact ultrasonic, they do not need to touch the monitored liquid. Do you need to know how much liquid is in your tank and to prevent spills? Select one of these: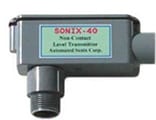 Sonix-40 Non-Contact Ultrasonic Liquid Level Transmitter for one tank up to 8 feet tall. Sonix-50 senses level in tanks up to 15 feet tall.
It is Small Size, Low Cost, Short Range Transmitter with continuous 4-20 mA output, 24 VDC or 12 VDC power.
Optional outputs are 1-5VDC or RS232C.
MORE