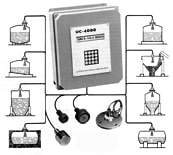 UC – 4000
Non-Contact Liquid Level Sensor.
Monitors Up to Nine ( 9 ) Tanks of Any Size Without Calibration. Continuous digital indication of level in Inches, Feet, Meters and volume in Gallons, Liters, Barrels, Pounds, etc..
Outputs: RS232C computer output, 4-20 mA current output, up to 3 alarm relays per each tank. Also optional duplicate Remote Display.
MORE