SoniGuard
ULTRASONIC PLUGGED CHUTE AND POINT LEVEL MONITOR: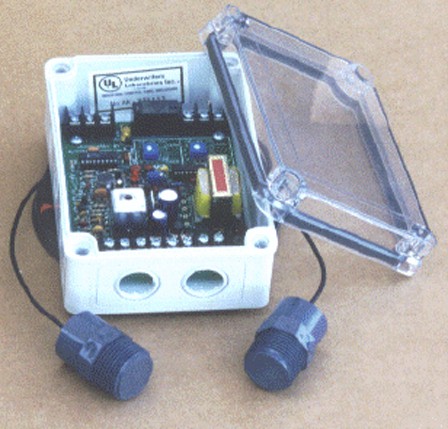 FEATURES:
Small size, Adjustable Delays
Easy Installation, No Maintenance
Corrosion and Vibration Resistant
Rugged, Air and Water-Tight Sensors
Not Affected by Hose-down
Internal Modern Microcontroller
Self-Testing
Operates on AC or DC power
US Made
APPLICATIONS
Plugged Chute control, Bin or Hopper High or Low level control, Material Flow control, Conveyor control, Web Break detection, Vehicle Position detection, Foam Rise, etc.
FUNCTION:
Monitors blockage of material flow and single (point) level of bulk material in bins, hoppers, chutes, conveyors, tanks, etc. Two ultrasonic sensors are placed facing each other in opposite walls of the monitored vessel. When the material rises to this level or exceeds it, an internal double pole, double throw relay will trip (after delay). The relay will revert to opposite state (after delay) when material level drops below the ultrasonic sensors. Thus, SoniGuard indicates presence or absence of material or objects in between the sensors. When used as a plugged chute monitor, there are two adjustments that allow delays of output control relay trip, necessary for proper detection of material blockage.
MONITORED MATERIALS:
Powders, Pellets, Shredded material
Paper, Pulp, Saw Dust, Wood Chips
Fibers, Textiles, Plastics, Fly Ash
Coal, Ore, Sand, Crushed Rock
Flour, Grains, Sugar, Cereals
Feeds, Hay, Leaves, Cotton, Foam
Sludge Cake, Feathers, etc.
OPERATION
SoniGuard operates using ultrasonic signal, transmitted from one sensor toward the opposite sensor, placed in a direct line of sight. The signal is a strong, high frequency acoustic burst (not detectable by humans). The signal is modulated and coded for reliable operation. The sensors are typically installed flush with the hopper walls, they do not need to protrude inside. However, they can not transmit through the walls. The signal path is interrupted when there is material accumulation in between the sensors. With no material present, the signal travels freely between sensors. Both sensors are identical, any of the two can be used as transmitter or receiver.
TYPICAL APPLICATION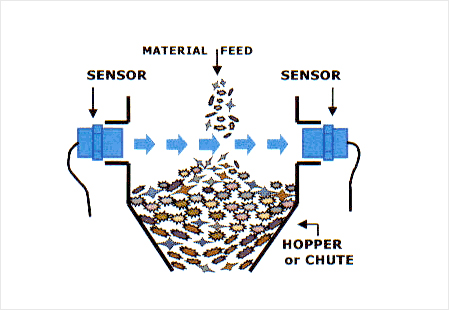 SoniGuard is a versatile monitor that operates reliably in vast variety of materials, light or dense, regardless of color or transparency of the monitored The operation is not affected by radio or microwave signal, radars, acoustic noise. SoniGuard allows adjustment of the relay trip by time Delay on Break and Delay on Make. These delays prevent untimely contact triggering. Both delay adjustments are clearly marked on the circuit boards. Signal Gain adjustment (also located and marked on the circuit board) allows monitoring of entire spectrum of bulk materials. There are three lights on the circuit board to indicate operation status – Red LED indicates whether material is present or not, Yellow LED indicates status of the output relay, Green LED is a Power-On indication.