Sonix-1000, 2000 and 3000:
Our Motto: Just install Sonix-1000 and turn power on. It will be working for you! It's that simple to use.
Monitors liquids level or volume in one, two, three, four, five, six or seven tanks. All tanks are scanned automatically and level or volume of each tank is displayed in sequence.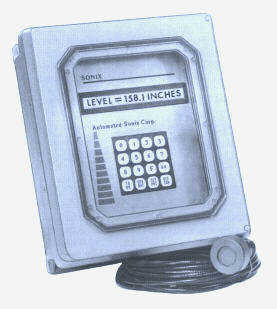 Non-contact Monitoring
Designed to Make the Use Simple
Self-Adjusting, No Calibration, No Programming
No maintenance
Variety of Heavy Duty, Hermetically Sealed Sensors (Transducers), also Explosion – proof Transducers
Displays level in feet, inches, meters, volume in gallons, barrels, liters and also weight.
Made in the USA
NEW GENERATION:
The Sonix series is a new generation of level controller. It has features not available anywhere, incorporating entirely different and original philosophy that we believe will set a standard for the future. Our purpose was to make the use as simple as possible.
Is truly user-friendly, typically requiring no setup, just to turn the power on to operate.
Can be upgraded at any time after the sale to incorporate new features when they become available as a result of our ongoing development in ultrasonic monitoring.
Incorporates all meaningful innovative features and processing currently available as well as any updates to time of purchase.
THE ULTRASONIC PRINCIPLE:
The Sonix monitors level (or volume) of liquids, solids and slurries without ever contacting the monitored surface. This is a truly non-contact method of monitoring.
The transducer (also known as 'sensor') is mounted on top of tank above the highest level and is connected to the controller via a coaxial cable. The controller transmits an ultrasonic signal through the transducer, directed toward the monitored surface. The echo, reflected from the monitored surface, is received by the transducer and passed to the controller. Following a sophisticated processing, the time to receive the echo is then converted to level or volume, as required.
OPERATION:
Large, alphanumeric LCD display automatically shows in sequence level of each tank in inches, feet or meters and also volume in US gallons or liters, as selected by the user. The results are displayed in clear English (no codes are needed). The volume display includes also horizontal tanks, no strapping tables, no programming is required.
All measurements for each tank, including alarm set points and current output, are checked and updated each second. The controller performs self-diagnostics during regular operation to maintain the most reliable performance.
The controller continuously monitors all tanks at the same time by automatically alternating the transmission and the processing between the transducers. The display will automatically alternate in about 3 second intervals between each tank. However, each of the tanks will be monitored every second. For easy orientation, the display will show:
TANK 1 = ……………..,
TANK 2 = ……………..,
TANK 3 = …………….., etc.,
followed by level or volume display for the particular tank. Each tank can have its own dedicated current output flowing continuously and its own alarm relay outputs. The outputs (4-20 mA current, alarm relays), however, appear as if each were coming from an individual unit.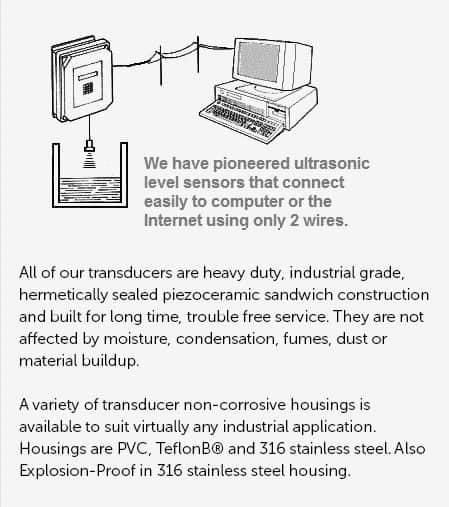 SPECIFICATIONS:
STANDARD OUTPUTS:
20-character LCD readout of level and volume.
RS232C computer connectible output, only 2 wires needed, transmit distance up to 2000 feet.
OPTIONAL OUTPUTS:
One, two or three programmable alarm relays per each tank.
4 to 20 mA current output into 500 Ohms per each tank, programmable span – no calibration.
Duplicate remote display, distance up to 2000 feet.
DUPLICATE REMOTE DISPLAY:
Duplicate 20-character alphanumeric display can be located as far as 2000 feet from the controller. The connection to controller is via any 3-wire cable. This display duplicates the controller display. Mount in your panel.
INTERNET, ETHERNET Access:
Optional Internet and Ethernet connection using RS232C/Ethernet converter. Contact us for details.
RANGE:
To simplify ordering, SONIX series are divided to models, depending on the standard transducers range = TANK HEIGHT:
SONIX 1000 …… 0-15 feet tank height
SONIX 2000 …… 0-50 feet " "
SONIX 3000 …… 0-80 feet " "
ACCURACY:
+/- 0.25% of span
REPEAT ABILITY:
+/- 0.1% of span
POWER:
120 VAC +/- 15%, 50/60Hz, 10VA, standard.
220 VAC +/- 15%, 50/60Hz, optional.
+12 VDC +/- 10%, 0.5 Amp., opt.
+24 VDC +/- 15%, 0.4 Amp., opt.
ENCLOSURE:
NEMA 4X-fiberglass (IP-65) 11″x13″x6″ with front window std., Operating temperature -20F to +140F, std.
SENSORS:
Standard with Sonix-1000:
#7508, PVC housing, 10″ blind zone
Standard with Sonix-2000:
#4012A, PVC housing, 18″ blind zone
Standard with Sonix-3000:
#2310, PVC housing, 22″ blind zone
Operating temperature -40F to +180F, all above.
OPTIONAL SENSORS:
#4012BS in 316 stainless steel housing.
#4012BS/CSA in 316 SS, explosion-proof, CSA approved
for all Class I, Groups A, B. C & D.
Both above: Range 35 ft., blind zone 18″
Operating temperature -40F to 220F.
#7508-Teflon in solid Teflon® housing, temperature -40F to 220F.
#4012-Teflon in solid Teflon® housing, temperature -40F to 220F.
#2006. . . PVC housing, range to 6 ft. 5″ blind zone,
Temp. 0F to 180F.
SENSOR CABLE:
RG62A coaxial cable, 30 or 40 ft. std. length, longer cables available.
If you need to purchase alarm lights, buzzers, additional cable and other to use with our tank level sensors, we have provided some links for your convenience. Please click here..
WARRANTY:
18 months from the date of shipment under normal use. The warranty carries no liability, expressed or implied, beyond the obligation to repair or replace the part under warranty.
For Information about Applications of Ultrasonic Level Sensors,
CLICK HERE
.
Here is how we serve customers