SONIX-11 
     is used as non-contact liquid level alarm switch, tank level alarm sensor, liquid level sensor, tank level control to prevent overflow spills. Use it for level control such as High-High, High-Low, Low-Low and alarms.
     Detects if a liquid surface, material or object is within a preset distance from the transducer. Two output relays will trip (energize) when the distance is reached. The relays will remain in this state as long as the monitored surface remains above this level.
Features:
• Non-contact sensing.
• Reliable operation, no maintenance.
• Two independently adjustable relay outputs.
• Sense virtually any surface perpendicular to the transducer.
• Sensing range 7″ to 96″ (8 ft.)
• Rugged, air and water-tight transducers are self-cleaning, intrinsically safe. Not affected by humidity, condensation, viscosity or specific gravity.
• Automatic temperature compensation for accuracy.
• Operates on 120 VAC power.
Outputs:
The outputs are two set points, independently field adjustable across the entire monitoring range by turning on the board potentiometer. Each set point has a SPDT relay with the Common, NO and NC contacts brought to the output screw terminals at the top of the circuit board (see the photo).
SPECIFICATION:
Range:
7" to 96″ (18 cm to 244 cm).
Accuracy:
+ / – 1% of span.
Repeatability: better than +/- 0.5%
 
Outputs: Two SPDT relays, contacts rating 5 Amp.
250 VAC.
Power: 120 VAC std.. Optional power: 220 VAC,
24 or 12 VDC.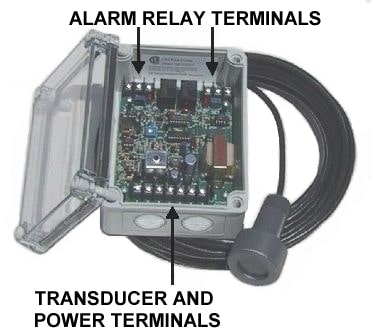 Transducer: #7508, PVC housing, 7″ blind zone,
8 degree beam.
Optional housing: Teflon, Kynar, explosion-proof 
#4012BS/CSA – Class I, 316 stainless steel housing.

Transducer Cable: 20 ft. of coaxial RG62/U cable.
  
Operating Temp.:
Sensor – 40F to + 160F. Electronics 20F to 160F.

Enclosure:
5″ x 7″ x 3″, NEMA 4X polycarbonate, IP67.

Warranty:
18 months from the date of shipment under normal use. The warranty carries no liability, expressed or implied, beyond the obligation to repair or replace the part under warranty.