Sonix-40 and 50 Tank Level Transmitters.
Non-Contact, Low Cost Ultrasonic Level Transmitter, Sensor and Indicator with a 4-20 mA current output, proportional to level in tank. Connect it to tank gauges, programmable controller, digital display or monitor.
Sonix-40 and Sonix-50 are functionally identical except for the monitoring range and mounting thread. Both are threaded to flanges on top of tanks or openings, Sonix-40 has 1-inch NPT male thread, Sonix-50 has 1-1/2 inch NPT male thread.
Sonix-40: has range to 8 feet (2.5 meters).
Sonix-50: has range to 15 feet (4.5 meters).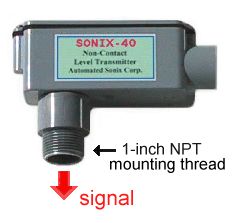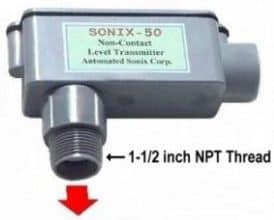 OPTIONAL OUTPUTS:
1-5 VDC or 0-5 VDC.
Linearized current output, proportional to volume in horizontal tanks.
FUNCTION of ULTRASONIC LEVEL TRANSMITTER:
Continuously monitors liquid level and transmits a 4-20 mA current proportional to the level. Does not contact the liquid. The current output can be connected to a programmable controller, remote display, computer, chart recorder, etc.
FEATURES:
Non-Contact Tank Level Sensing, No Maintenance, Switch Calibration, Easy Installation, Automatically  Adjusts Beam Width and Gain.
APPLICATIONS of ULTRASONIC LEVEL TRANSMITTERS:
Diesel Fuel, Oils, Lubricants, Water, Slurries, Viscous Fluids, Acids, Caustics, etc.
ADVANTAGES OF OUR TRANSMITTER:
Stand alone operation, does not need computer to start.
Non-contact level monitoring.
NEMA-4X outdoor housing, IP-67.
Operates on 12-24 VDC power.
Provides smooth current output without surges.
Optional Teflon® radiating face.
SPECIFICATIONS
MAXIMUM RANGE (TANK HEIGHT):
Sonix-40 ….. 8 feet, 2.5 meters
Sonix-50 ….. 15 feet, 4.5 meters
OUTPUT:
4-20 mA current into 500 Ohms, sourcing
OPTIONAL OUTPUTS:
1-5 VDC or 0-5 VDC.
RS232C computer connectable output via 2 wires, distance up to 2000 feet.
Linearized output proportional to horizontal tanks volume.
ACCURACY:
+/-0.3% of span (in air)
REPEATABILITY:
+/-0.1% of span
RESOLUTION:
0.04 inch
POWER:
12 to 24 VDC, 0.1 Amp.
Green LED Power-On indication.
WIRING:
2 power wires + one current output wire.
ENCLOSURE:
PVC housing, NEMA-4X, IP67 type.
Length: 6.25 inches (Sonix-40), 7.5 inches (Sonix-50)
BEAM WIDTH:
Nominal 8-degrees, 8″ blind zone (Sonix-40). Automatically adjusts beam width and signal strength to make the beam as narrow as possible.
OPERATING TEMPERATURE:
20° F to 150° F
OTHER OPTIONS:
* Remote loop-powered displays for your panel mounting, choice of LCD or LED, 3-1/5 or 4-1/2 digits. Adjustable to your engineering units. Display enclosures available.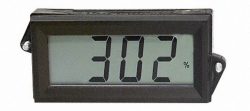 WARRANTY:
18 months from the date of shipment under normal use. The warranty carries no liability, expressed or implied, beyond the obligation to repair or replace the part under warranty.
More about ultrasonic level sensor applications
Here is how we serve customers

Do you have any question? Call 941-964-1361 or email us.
CALIBRATION:
The calibration of current output is done by switches, one sets the 4 mA (or LOW) level, the other sets the 20 mA (or HIGH) level. We would be happy to pre-calibrate for you!
ULTRASONIC PRINCIPLE:
The transmitter operates using an ultrasonic echo, reflected from the monitored surface. The signal is directed perpendicularly toward the monitored surface. The time delay of the returned echo enables the internal microprocessor to determine the liquid level.
OPERATION:
The transmitter commences a regular operation as soon as the power is applied. Except for the 4 mA and 20 mA switch calibration, there is no set up required. During stationery or slowly changing liquid level, the transmission cycle repeats continuously about seven times per second. The transmitter self-adjusts its damping during turbulence for best results. Also, it continuously adjusts the signal beam width for narrowest possible.
When a rapidly changing level is detected, the transmitter will automatically increase the frequency of transmission and decrease the output damping for a faster response.
Aside from calculating the current output proportional to the monitored level, the internal microprocessor performs the following:
* self-diagnostics and announces each received valid echo using a red LED light.
* signals any possible operating problems, such as loss of echo, level beyond the calibrated range, etc. using internal LED.
* upon an echo loss, the output will switch to a high, approximately 22 mA current.