LP-10 Non-Contact Level Sensor with
Pump and Valve Control !
LP-10 is ultrasonic non-contact tank level sensor indicator that displays level or volume in tank. It will turn pumps or valves On/Off based on the level in tank.
Our Motto: Just install LP-10 and turn power on. It will be working for you! It's that simple to use.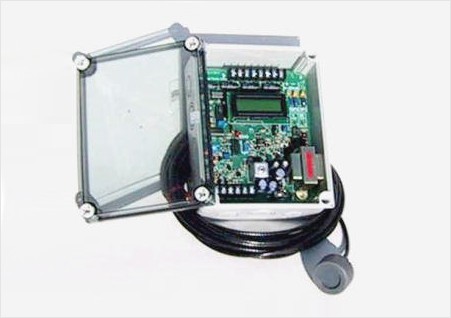 LP-10 and LP-20 control One Pump,
LP-10/2 and LP-20/2 control Two Pumps:
Control directly pump or valve, ON and OFF operation.
Includes Relay Latch for Pump-In and Pump-Out.
Include High and Low Alarm Relays.
No Field Calibration Required, no Programming.
Easy Installation, No Maintenance.
Reliable Operation, No Moving Parts.
Not Affected by Fumes and Condensation.
Automatic Temperature Compensation.
Displays Level or Volume for Vertical and Horizontal Tanks.
LP-10 and LP-20 level sensors are used to continuously monitor (sense) and indicate level or volume of liquids such as chemicals, water, fuel, diesel and heating oils, lubricants, etc. in horizontal as well as vertical tanks. Based on the level in tank, LP sensor turns ON or OFF pump or solenoid valve. The user is only required to set the High and Low liquid levels to select either Pump-In or Pump-Out operation. The internal latching relay contact is configured to turn power to pump/valve on or off.
The High and Low alarm relays can be used for alarm in case pump fails. Or, they could be wired for second pump control.
This product is designed to replace or upgrade from older mechanical gauges and float controls. Field calibration is not required. The basic difference between LP-10 and LP-20 models is the maximum range of measurement (tank height or depth).
LP-10 & LP-10/2 can monitor tanks to 15 feet high.
LP-20 & LP-20/2 is for any taller tanks.
The sensing is non-contact; transducer is mounted above the highest level in tank and thus will not touch the fluid. The monitor transmits an ultrasonic signal directed toward the monitored surface and measures the time to receive the reflected echo. The time is then converted to depth of liquid in tank. This enables an accurate measurement over the entire range. Microprocessor then performs the calculations and displays level or volume in tank on highly visible LCD display. Based on the level, microprocessor then determines whether to turn pump or valve ON or OFF.
INITIAL SETUP:
Is required only once, anytime, prior or after installation. It can be done on your desk and even without transducer being connected. It does not need any computer connection, just to connect a 2 or 3-prong power cable to the terminals. The user would set pump/valve ON and OFF level (to control pump or solenoid valve) and vertical distance between transducer and tank bottom (needed for digital readout). All this is a very simple task, done by jogging push button switches until the correct level is shown in display. We will be happy to do that for you if you provide us with the levels information. These initial setup data are stored in the microprocessor's non-volatile memory and will remain there forever, or until the user changes it for some reason. Power loss, no matter how long, will not erase the data.
Standard Outputs:
Digital Indication of Level
Pump or Valve Latching Relay
High and Low Alarm Relays
Optional Outputs:
Digital Indication of Volume
4-20 mA Current Output
1-5 Volt Output
RS232C Computer Connectible Output
TYPICAL APPLICATION: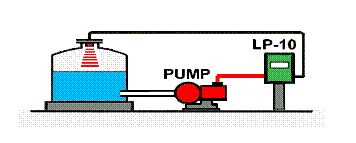 LP-10/20 INPUT WIRING TERMINAL: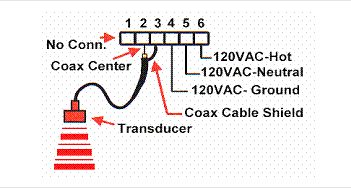 SPECIFICATIONS:
RANGE:
LP-10 and LP-10/2: for tanks up to 15 ft. tall.
LP-20 and LP-20/2: for all larger (taller) tanks.
READOUT:
Feet, Inches or meters (standard),
U.S. gallons and Liters (optional)
ACCURACY:
+/- 0.25% of span
REPEATABILITY:
+/- 0.15% of span
POWER:
120 VAC +/- 15%, 60 Hz, 6VA (std.)
220 VAC +/- 15%, 50 Hz (opt.)
12 VDC or 24VDC, 0.25 Amp. (opt.)
ENCLOSURE:
NEMA-4X Outdoor, IP65, polycarbonate with clear view cover, 9" x 7" x 4" (std.) Operating Temp. 20° F to 150° F.
STANDARD TRANSDUCER:
LP-10 & PL-10/2: #7508, PVC housing,9" blind zone, 2" diameter. Range to 15 feet.
LP-20 & LP-20/2: #4012A, PVC housing, 18" blind zone, 3" diameter. Range to 55 feet.
Operating Temperature –20°F to + 180°F, both.
(Both above transducers also available in optional Teflon housing).
OPTIONAL TRANSDUCERS:
#4012BS, 316 stainless steel housing.
#4012BS/CSA, Explosion-proof, 316 SS approved by CSA for all Class I, Groups A, B, C & D. Both range to 35 feet, blind zone 15″ or 18". 3" diameter both.
#7508-Teflon, Teflon housing, range to 15 ft., 2″ dia.
#4012-Teflon, Teflon housing, range to 55 ft., 3″ dia.
#2006, PVC or Teflon for ranges to 8 ft., blind zone 5" to 8".
TRANSDUCER CABLE:
RG62/U or RG62/A coaxial, 30 ft. furnished (std.). Longer cables installed on request. Or, you may purchase the additional cable locally.
OUTPUT:
8-digit LCD display in feet, inches or meters (select needed).
Optional display in US gallons, liters, etc.
INSTALLING TRANSDUCER:
Remove the blind flange or cap from the opening on top of the tank. Drill a hole in the center of flange or cap. Tap the hole with ¾-inch NPT female thread. Thread the transducer into this hole and place the transducer-flange assembly back on the tank opening. The transducer cable should be placed in a conduit, to protect it from elements.
INSTALLING the CONTROL ENCLOSURE:
Mount the enclosure on a wall, post, skid, etc. The enclosure is for outdoor and can be installed several hundred feet away from the tank. Attach the transducer cable to the clearly marked screw terminals inside. Connect 120 VAC, single phase wires to the AC screw terminals inside. Connect wires to control pump or valve as per wiring diagram in the Instruction Manual, furnished with the product. Turn power On, and that is all.
LP-10 & LP-10/2 and LP-20 & LP-20/2
are designed for durability in harsh industrial environments. Installed properly, they will operate trouble free for a long time, requiring no maintenance. Breakdowns are minimized by a conservative design and many years of field-proven test experience. The sensors are immune to acoustic and electrical noise, turbulence or liquid splashing on the transducers. They are not affected by radio, radar or microwave transmission.
The transducers are industrial grade, hermetically sealed, non-corrosive in a PVC housing (std.), 316 stainless steel, Teflon® or Kynar®. All are intrinsically safe with one model in 316 stainless steel housing approved for Class I, Groups A, B, C & D hazardous environments. The transducer is connected to the controller via a coaxial cable and can be remotely mounted up to several hundred feet, depending on model. Please, see the Transducers page for details.
RELAYS:
Latching Relay, 10 Amp, 250 VAC contacts rating, for Pump-In and Pump-Out.
High Alarm Relay, 120VAC, 50 watts.
Low Alarm Relay, 120VAC, 50 watts
OPTIONAL OUTPUTS:
4-20 mA programmable current output.
1-5 VDC programmable output.
If you need to purchase alarm lights, buzzers, additional cable and other to use with our tank level sensors, we have provided some links for your convenience. Please click here.
WARRANTY:
18 months from the date of shipment under normal use. The warranty carries no liability, expressed or implied, beyond the obligation to repair or replace the part under warranty.

More about ultrasonic level sensor applications
Here is how we serve customers