Model UC-4000
World's First Multi-Tank Ultrasonic Level Sensor
Smart Enough to Monitor up to 9 Tanks of Any Size Without Calibration.
Our Motto: Just install UC-4000 and turn power on. It will be working for you! It's that simple to use.
Automatically scans all tanks.
Automatically displays level, volume or opt. weight of each tank in sequence.
No calibration, no programming.
Non-contact monitoring.
Easy installation – only one box. All transducer cables can be placed in a common conduit.
No maintenance.
Use for any liquids, slurries or suitable solids.
U.S. made.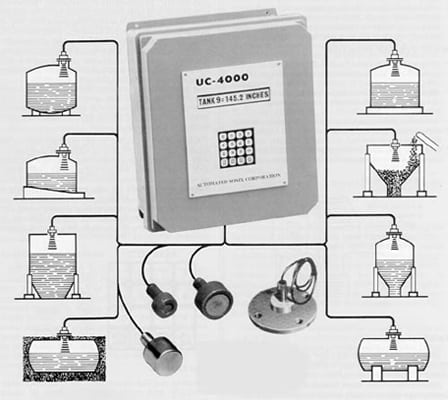 Call 941-964-1361 with any question.
FUNCTION:
Scans automatically up to 9 tanks of any size. Monitoring is non-contact with transducers mounted in the tanks above the highest level of fill.
Displays automatically level or volume in each tank in sequence.
Provides outputs for each tank, up to 3 set points and a 4 to 20 mA current.
Transmits level or volume for each tank via RS232C computer connectible output, up to 2000 feet distance.
WHAT ARE THE BENEFITS?
Only one control box to install, only one power connection. The enclosure nominal size is 13 x 11 x 6 inches.
All transducer cables can be placed in a common conduit. This represents a substantial cost saving.
Very cost effective when compared with single units.
Easy system expansion due to modular construction.
UC-4000 is simple to use, representing the most modern technology available anywhere.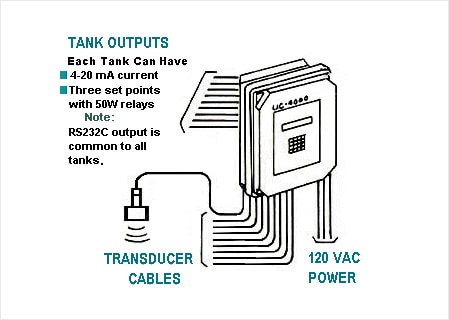 OPERATION:
During regular operation, the controller automatically and continuously monitors all tanks. The level or volume (as selected) in each tank is displayed in sequence for approximately two seconds, starting with tank 1, then 2 and so on until the last monitored tank. The cycle continuously repeats. Large, alphanumeric LCD display shows level in inches, feet and meters or displays volume in US gallons, liters or other units for vertical as well as horizontal tanks. No strapping tables or programming required.
Scan of all nine tanks is completed approximately every second, independent of display. During each second all measurements, set points and current outputs have been updated. The outputs, including the 4-20 mA current, are independent and appear as if each were coming from an individual single unit.
SPECIFICATIONS
TRANSDUCERS:
A variety of transducers allows you to select the type that is most suitable for the application. See TRANSDUCERS page.
RANGE = TANK HEIGHT:
With #7508 transducer up to 15 ft.
With #4012BS transducers up to 35 ft.
With #4012A transducer up to 50 ft.
With #2310 transducer up to 80 ft.
These ranges apply to liquids monitoring.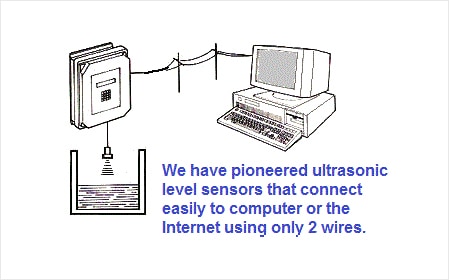 INTERNET, ETHERNET ACCESS:
Optional Internet and Ethernet 'plug and play' connection using RS232C/Ethernet converter. Contact us for details.
ACCURACY:
+/- 0.25% of span
REPEATABILITY:
+/- 0.1%
POWER:
120 VAC +/- 15%, 50/60 Hz, 10 to 20 VA, standard.
Optional: 220 VAC +/-15%, 50/60 Hz, 5 to 15 VA, 24 VDC, 12 VDC.
ENCLOSURE:
Outdoor NEMA 4X fiberglass, IP65, nominal 14 x 12 x 7 inches, operating temperature – 20 F to + 140 F. opt.
TRANSDUCERS:
In PVC, CPVC, Teflon® , 316 stainless steel, Explosion-Proof and Kynar® , housings. Also 3-A sanitary transducers.
TRANSDUCER CABLE:
RG62/U coaxial, 30 ft. std. length, longer cables furnished installed when ordered.
STANDARD OUTPUTS:
20-character LCD readout.
RS232C computer connectible output, only 2 wires needed. Transmission distance up to 2000 ft.
OPTIONAL OUTPUTS:
One, two or three programmable SPST set points per each tank, with 50W relays.
4 to 20 mA current output per each tank, programmable span, no calibration.
Duplicate remote display, distance up to 2000 feet from UC-4000. Mount in your panel.
DUPLICATE REMOTE DISPLAY:
Duplicate 20-character alphanumeric display can be located as far as 2000 feet from the controller. The connection to controller is via any 3-wire cable, no power supply required. This display duplicates the controller display.
If you need to purchase alarm lights, buzzers, additional cable and other to use with our tank level sensors, we have provided some links for your convenience. Please click here.
WARRANTY:
18 months from the date of shipment under normal use. The warranty carries no liability, expressed or implied, beyond the obligation to repair or replace the part under warranty.
More about ultrasonic level sensor applications
Here is how we serve customers