UL-100 with 4-20 mA Current Output
Optional Outputs: 1 – 5 VDC, or RS232C direct computer connection.
Our Motto: Just install UL-100 and turn power on. It will be working for you! It's that simple to use.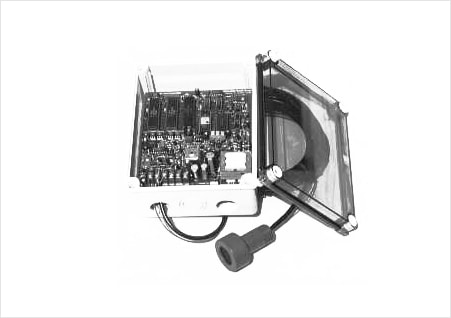 FUNCTION:
Continuously monitors liquid level in tank, displays level or volume in tank and outputs a 4-20 mA current proportional to the level or volume. The monitoring is done without contacting the liquid. The current output can be connected to a programmable controller, computer, remote display or relay module.
USE:
Any liquids or slurries, including:
Chemicals, Acids, Caustics, Oils, Fuels, Gasoline, Lubricants, Adhesives, Creams, Lotions, Viscous Fluids, Pharmaceuticals, Foods, and Beverages, Open Channel Flowmeter, Flow computer.
FEATURES:
Non-Contact Sensing
No Calibration
No Maintenance, Easy Installation
Rugged, Air and Water-Tight, Explosion-proof Transducers
Not Affected by Condensation
Automatic Temperature Compensation
Displays level in tank.
Self-testing
US Made
RANGE OF USE:
Model UL-100 for tanks to 15 feet high, 4.5 meters.
Model UL-200 for tanks to 50 feet high, 15 meters.
ADVANTAGES OF OUR TRANSMITTER:
The control electronics are remote from transducer (sensor) and may be mounted at the ground level wherever convenient. All wiring connections are done at the ground level, no need to climb on the tank top as is the case with products by other manufacturers.
The remotely mounted electronics are protected from summer heat and winter cold, from rain, ice, and humidity. Our transmitter will last much longer than products that have the transducer and electronics in one package, mounted at the top of the tank.
Calibration is done digitally. It can be done anywhere, prior to installation or during operation. 
STANDARD OUTPUTS:
Digital Indication of Level
4-20 mA Current
OPTIONAL OUTPUTS:
Digital Indication of Volume in gallons, liters, barrels or weight.
1-5 VDC Output
RS232C Computer Connectible Output
SPECIFICATIONS:
RANGES = TANK HEIGHT:
UL-100… 0-15 feet, 4.5 meters.
UL-200… 0-50 feet, 15 meters.
OUTPUTS:
8-digit LCD readout of level, 4-20 mA into 600 Ohm or 1-5 VDC
Optional RS232C, distance up to 2000 ft., opt.
ACCURACY:
0.25% of span
REPEAT ABILITY:
0.15% span
RESOLUTION:
0.005 ft. max
POWER:
115VAC +/- 15%, 50/60Hz, 5 VA, std.
220VAC +/- 10% 50/60Hz, opt.
+ 12 to + 24 VDC, 0.2 Amp., opt.
ENCLOSURE:
NEMA 4X polycarbonate, IP65, 7″ x 9″ x 4″, std.
STANDARD SENSORS (TRANSDUCERS):
Standard with UL-100:
#7508, all PVC housing, 2″ diameter, 9″ blind zone, 10 degree beam
Standard with UL-200:
#4012A, all PVC housing, 3″ diameter, 18″ blind
zone, 12 degree beam Temp. – 40F to +170F, both above.
OPTIONAL SENSORS:
#4012BS, 316 stainless steel housing
#4012BS/CSA, Explosion-proof, 316 SS, CSA approved for all Class I, Groups A, B, C & D. Both above: Range 35 ft., blind zone 18″
#4012-Teflon, range to 55 feet, blind zone 18″
#7508-Teflon, range to 15 feet, blind zone 9″
Operat. temperature for all above – 40F to 190F
#2006, PVC housing, range to 6 ft., blind zone 5 inches, temp. 0F to 160F, 6 degree beam.
Note: All sensors (except for 316SS) are available In Teflon housing.
SENSOR CABLE:
RG62/U or RG62A coaxial, 30 ft. std. length, longer cable installed when ordered.
WARRANTY:
18 months from the date of shipment under normal use. The warranty carries no liability, expressed or implied, beyond the obligation to repair or replace the part under warranty.

More about ultrasonic level sensor applications
Here is how we serve customers
Call 941-964-1361 with any question or
email us
.